All-purpose Iseki muscles out bigger tractors
Queensland vegetable and livestock farmer Merv Keevers can't stop praising his new Iseki TG6370P tractor because it provides him the flexibility he needs to do almost every job on his two properties.
Merv and his wife Joan have a 40-acre vegetable farm at Wooroolin in southeast Queensland and a 160-acre sheep and cattle farm at nearby Murgon, which operate under the name Keebest Proprietary Limited.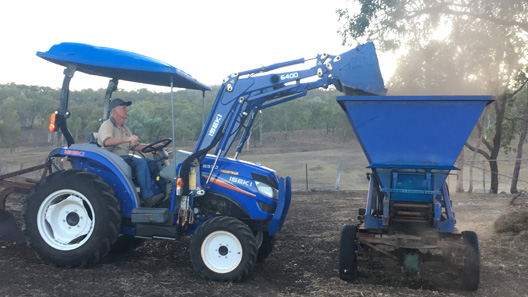 They bought the new Iseki tractor in May, after years of owning larger tractors, which were all over 100hp.
"We were looking for a smaller tractor," Merv says.
"I looked around but the tractors they had did not have the type of gearing I was after. I wanted the snail-and-tortoise gear, which is really slow for planting. Other tractors have also gone away from the shuttle shift, which makes for ease of operation, especially for young people. I definitely wanted that."
Several years ago Merv worked on another vegetable farm, where the tractors all had shuttle shift. He was quickly sold on it.
"But they didn't have the slow gearing and the tractor was idling all day long, which wasn't good for the engine. I wanted the snail-and-tortoise gearbox because you can keep the revs up and it's better for the engine," he says.
"I looked around and was pretty taken with the Iseki TG6370P straight away when I saw the gearing it had on it."
Merv uses the Iseki for a variety of jobs on both his vegetable and livestock properties, and loves the options it gives him. He's done about 100 hours on it since purchasing it.
"With the veges we use it for ground preparation, laying our irrigation, planting and harvesting. We also use it for making our compost, as it came with a bucket," he says.
"With the livestock we use it for feeding out to sheep, and with our cattle we use it for fencing, mowing and general farm work."
While the tractor is only 36hp, Merv finds it ideal for towing a range of implements.
"It runs a planter and a set of tine rippers, a twin-furrow mouldboard plough, and a set of 16-plate hydraulic tandem discs. It also pulls fertiliser spreaders and it handles them all well."
Merv also uses the Iseki tractor for pulling a 1.5-tonne mulch dropper, which is hydraulically driven.
"It suits the tractor quite nicely. The Iseki comes with twin hydraulic outlets at the end of it, so it's easy to adapt it to any hydraulic machinery you have."
Merv is extremely happy with the tractor and doubts he would consider buying anything else again.
"I don't think I would buy another big tractor. I would probably buy another one the same as this. It comes with quick hitch and has all the modern things that I was looking for in a small tractor. And I've found that by changing the way we work our implements, it virtually does the work of a big tractor," he says.
"The ease of operation and weight of the tractor is also an advantage. We trail it between the two properties and it has cut down the use of our big tractors."
Merv is also noticing a huge decrease in fuel and running costs, due to the small size of the Iseki. And he says it is comfortable to drive.
"It has a flat floor, which is good for leg room. The instrument panel and all the gearing are right at your fingertips, so you don't have to move all around," he says.
"The clutch is right at your feet and my wife also finds it easy to drive. We have two- and four-wheel drive and they both offer ease of operation," Merv says.
He bought the Iseki TG6370P from Sengs Sales and Service in Kingaroy, which is open seven days for repairs and servicing.