Iseki Tractor is Nature Reserve's Workhorse
When you think about conserving a precious remnant of swamp forest that is the habitat of native birds and plants or about educating young people to care for our eco-system, your mental picture probably doesn't include an Iseki tractor. Perhaps it should.
The Nga Manu Trust runs a reserve of 13 ha of protected land on the Kapiti Coast. It is home to more than 700 species of native plants, 56 species of birds (including kiwi and blue duck), and other cool critters like tuatara, geckos and skinks.
Along with the indigenous bush, Nga Manu has a visitors' centre that focuses on education and conservation. The Trust prides itself on the nature reserve's accessibility for wheelchairs and strollers.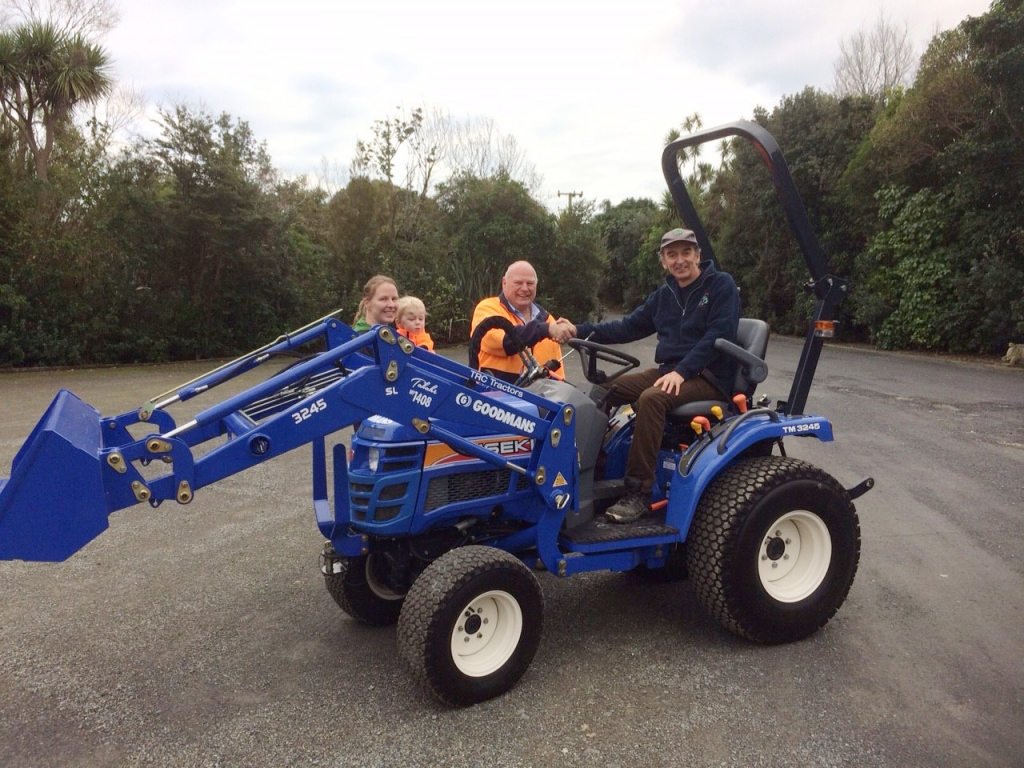 Along with the native flora and fauna, the reserve is home to an Iseki TM3245. The tractor is 22hp of quiet efficiency that works around the Nga Manu's tracks and pedestrian bridges.
The tractor has lawn tires so it doesn't damage the tracks, and it has a hydrostatic transmission and spring-loaded seat, so it is super easy and comfortable for staff and volunteers to drive.
It is also safe thanks to its adjustable safety frame. And if the driver leaves the seat without engaging the brake while it is in neutral, it will turn itself off.
Just like a larger tractor, the Iseki TM3245 has front and rear hydraulics, a loader, and a PTO that is used to run the slasher mower.
Nga Manu's tractor is a gift from Goodmans Contracting. Goodmans dug out the ponds when the reserve was first established in 1974.
During a recent fundraising drive to upgrade the visitor centre Nga Manu manager Dave Banks approached Rick Goodman.
Rick is one of five directors at Goodman Contracting. He says his company has a long association with the Nga Manu and he decided that it could help in its area of expertise: machinery.
"Both of their tractors were at the end of their life so we decided to help by buying a tractor for them. We still own it and we do all the maintenance so it is a continuing donation to the Trust. They ring up the hours every month and we send around mechanics with the oils and filters."
Rick's team also refurbished one of its old Iseki tractors for Nga Manu and has given them a tipping trailer and a shed. The trailer carts gravel for the tracks and supplies for building projects.
So why Iseki?
"Iseki are well made and easy to operate," Rick says. "The service from TRC Tractors in Feilding has been very good. We have a good relationship with TRC and we like them."
Dave says the Trust did not want a big tractor because it has to go over foot bridges, and Nga Manu has a lot of peat and swampy areas where a larger tractor could get bogged.
"We have had the Iseki since August and it's been used at least every second day. We have to clear away trees that fall on the tracks, and trim trees near buildings.
"We used it to clear and level the ground for the shed from Goodmans and to lower a track that was too high. The bucket is also used to grade the car park.
"These tractors have been a boon. We're very fortunate to have them."
TRC Tractors supplied the Iseki TM3245 and dealer Aaron Meurk says TRC sells Iseki because they are great for lifestyle farmers, councils, golf courses or anyone else who needs a reliable machine up to 60hp.
Aaron has been to the Iseki factory in Japan and says it's reassuring to see the pride that goes into producing a top-rate machine.
"The Iseki is a great utility tractor, and fits the bill perfectly for Nga Manu. There will be a lot of operators, and with hydrostatic transmission anyone can hop onto it."
Aaron says TRC is privileged to do business with both Nga Manu and Goodmans Contracting