Iseki SF Series Powers Through Council Demonstration Day.
The municipal council of Knoxfield recently played host to a demonstration of AGCO products including the SF Series Out Front Mowers from Iseki.
In attendance at the demonstration were several councils, statutory bodies and contractors that procure maintenance fleets and are eager to rein in costs and improve efficiencies in their operations. Organising the event in conjunction with Knox Council were AGCO Silvan dealers, Darmac Ag Sales and Service together with Dandenong AGCO dealer Small Horse Tractors.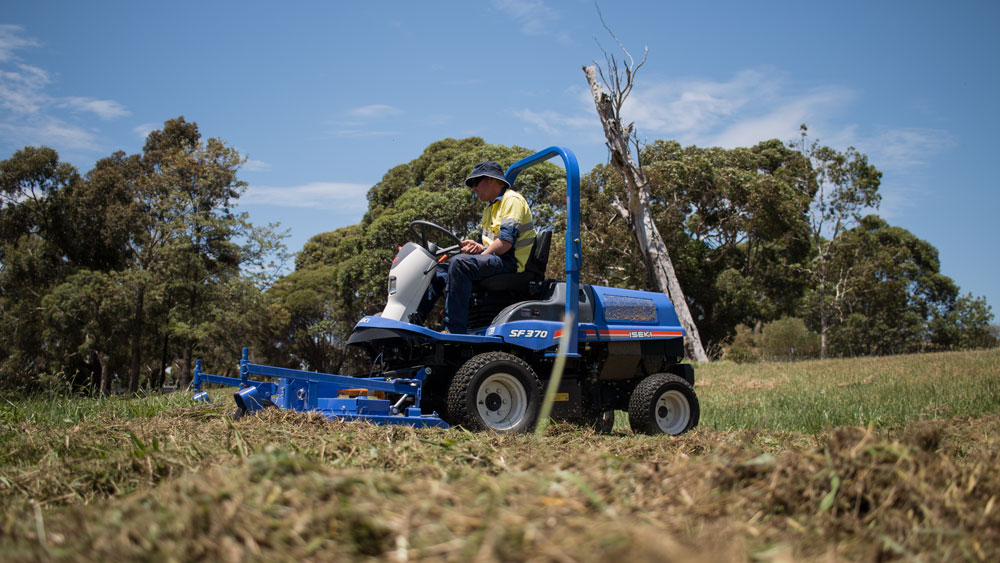 AGCO Sales and Parts staff were also on hand as well as AGCO Finance representatives, assisting attendees with questions regarding product, parts and service backup as well as Finance products that cater for the needs of councils. Interest was strong with the event with around 50 attendees including operators, fleet managers and contractors keen to get the opportunity to spend some time testing out the Iseki SF Series in a mixture of heavy and sloping conditions.
With large open space in many of Australia's outer suburban municipalities, grassland and road side maintenance is a never-ending maintenance task that councils can make more efficient with the right equipment and implements. Faced with constrained budgets, new rules governing rate increases as well as occupational and safety concerns for employees and the public, council fleet managers are looking for machines that are efficient, reliable, easy to use and get the job done day after day.
Taking place in a thickly grassed flood mitigation basin, the demonstration was the perfect setting to put the Iseki to the test. AGCO Area Sales manager Chris Dalton took operators through the key operating features and the benefits of the Iseki machine and then let the SF series do the talking as council operators took the machine through its paces.
"The Iseki SF Series Out front Mower develops a serious amount of torque at low revs which gives it ample power in these heavy conditions and can power up inclines, especially the steep banks of the flood basin we see her today" Chris Said.
"The SF series also has cruise control and a high quality operator's seat, which both make long days mowing more comfortable and reduces operator fatigue, which is vitally important with council maintenance fleets."
Also important also to council and contract operators is accessibility to key service points and filters. The Iseki SF series has easy release engine cover, large vents and easy reach oil and air filter access. The Front deck can be flipped easily for blade inspection with the simple removal of two pins and the use of the machines hydraulics.
Contact AGCO dealers Darmac Ag Sales and Service or Dandenong AGCO dealer Small Horse Tractors to arrange demonstration of the Iseki SF Series.